GALLERIES


Shop here for Coastal, Tropical, and Wildlife photo-artwork and photography. My Galleries are organized by themes, such as Coastal and Tropical, Sunrises and Sunsets, Kids at the Beach, Doors and Windows and many others. You'll also find galleries of amazing shots of some of the most beautiful and unique birds found in Florida. Images may be purchased as canvas prints, framed prints, metal prints, clothing, decor items, and more! Every purchase comes with a 30-day money-back guarantee.
Let's Go to the Beach!


Welcome to Florida, The Sunshine State!

ABOUT ME
I'm so glad you stopped by my gallery of coastal photography and photo-art! My first passion is photographing the coastal scenes, birds, and wildlife that surround me on Florida's Gulf Coast. My second passion is creating digital art using my photographs as a starting point. You'll see lots of examples of both here.

ABOUT MY WORK
The inspiration for my work comes from my love affair with the sunshine, sugar-white sand, and sparkling turquoise water here on Florida's Suncoast. Each image starts out as my own original photography. Some pieces remain as original photographs, while others become photo-art when I apply a variety of digital techniques to turn them into beautiful, digital watercolor or oil paintings. All are digitally signed by me. Why not let these coastal scenes bring a little of our warm Florida sunshine and tropical / coastal ambiance into your home or office? Better yet, give the gift of endless summer to someone you love!

ABOUT BUYING PRINTS
When you find prints you love, you'll see that you can have them printed in many sizes. All prints are available framed and matted, stretched on canvas, printed on metal or acrylic. or just rolled in a tube for you to frame. They can also be printed on smart phone cases, greeting cards, totes, pillows, and more. Anything you purchase is covered by FineArtAmerica's 30-day, no-questions-asked, money-back guarantee, so you can buy without risk.

ABOUT CUSTOM WORK & PHOTO RESTORATION
I can turn your own photos into art-quality photo-paintings just like the artwork you see here. Even photos that are under or over exposed or include objects or people you don't want in your final picture, can usually be customized to be just what you want. See my customization gallery labeled "Your Photos As Art" here.

I can also restore those old family heirloom photos to their original beauty by removing cracks, tears, faded areas, spots, and more. For an example, see my gallery labeled "Photo Restoration" here.

Click here to email me and we'll get started on your special project!

TALK TO ME!
You're invited to subscribe to my newsletter or email me with questions, special orders, or just to chat!. I won't spam you - you'll get my monthly newsletters full of both photography and decorating tips and ideas. I look forward to hearing from you!


Let's Go to the Beach!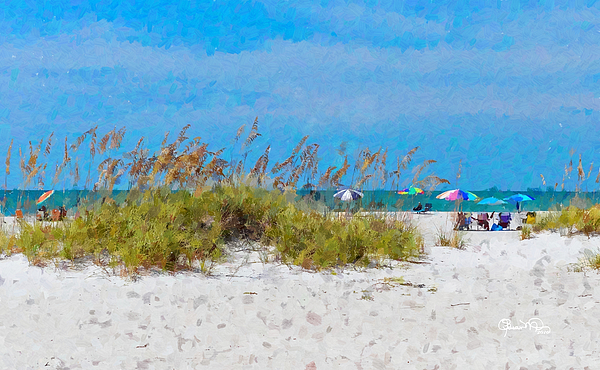 An Anna Maria Kind of Afternoon
Photo-Art by Susan Molnar